Instagram is a virtual haven for artists and art connoisseurs. Whether you need extra strokes of creativity and inspiration or you just want to be more productive with your spare time online, Instagram is the place to be.
But with the cornucopia of great artists on this platform, it's so easy to be lost and drained. Hence, to save you more time and energy, I curated some of the best artists and illustrators on Instagram that you can follow right now.
5 Best Illustrators on Instagram
Hayden Williams (@hayden_williams)
With over 1.2 million followers, Hayden Williams is certainly one of the most famous illustrators on Instagram.
He is a British fashion illustrator and designer with an impressive portfolio that includes partnerships with big brands and celebrities like Disney's Cinderella and Tumblr, Rimmel London and Kate Moss, Naomi Campbell and TASCHEN, Winsor & Newton, Bratz Collector Dolls 2018, iCanvas, Missguided, and Kylie Cosmetics.
Williams is known for creating fashion illustrations of celebrities wearing the outfit that they wore to a recent big event.
He is also known for incorporating seasons and special occasions to his artworks, as well as his interpretations of some of the most famous fictional characters and fairytale princesses.
Muhammed Sajid (@muhammedsajid.n)
Although Muhammed only has 300+ posts on Instagram as of this writing, I find that his inspired and colorful works are enough to justify his presence on my list.
Sajid has a strong inclination to bright and joyful color palettes, and his styles range from renderings of architectural designs to bold character portraits.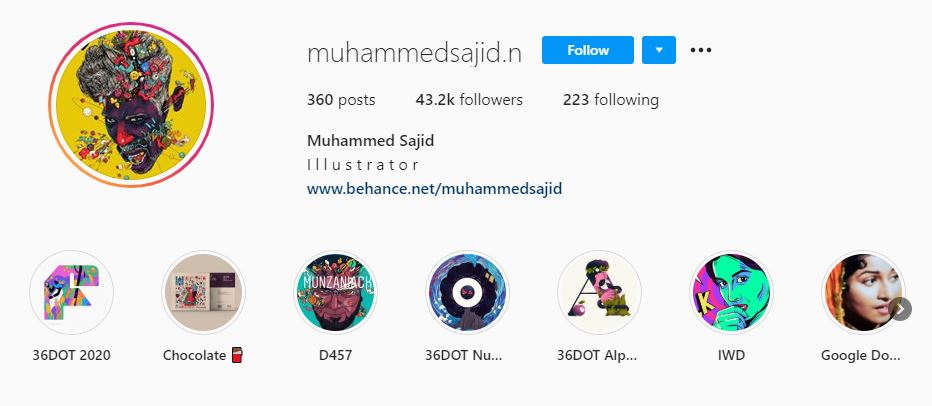 Muhammed Sajid is an illustrator based in Bangalore, India, and he has a degree from the College of Fine Arts, Trivandrum. You can also follow his works on Behance, and shop his artworks on Kulture Shop.
Bil Donovan (@bildonovan)
Bil Donovan is an artist, illustrator, and educator based in New York. He has also worked and lived in Milan and Paris.
Having been recently appointed as the first resident artist of Dior Beauty, his works can be seen throughout the globe in editorials of big publications and international promotional campaigns.
His illustrations evoke timeless glamour, sophistication, and class that reflects true to the brands that he works with such as Dior, Vogue, Neiman Marcus, St. Regis Hotels, Saks, New York Magazine, Elle and L'Occitane, just to name a few.
Jirka Vinse (@jirkavinse)
Finnish illustrator, graphic designer, and art director Jirka Vinse is popularly known in reimagining legendary and well-loved Disney characters and creating portraits that resemble how they will look like as real people.
Jirka's route in being one of the most famous illustrators today is a prime example of how our childhood inspirations can affect the path that we will take in life.
When asked about this project, he was quoted as saying, "Since I grew up with a lot of these characters, the sense of nostalgia made it such a fascinating and a fun personal project."
You can find out more about his works on his website: https://jirkavinse.com/, and social media channels.
Oana Befort (@oanabefort)
If you are into flowers, plants, adorable animals, and stationeries, then Oana Befort can be your go-to illustrator either for purchase or for some spurts of inspiration.
Her works always spark joy and positive emotions. And that's why they are perfect for greeting cards, postcards, notepads, gift wraps and tags, calendars and planners.
Now that Christmas is coming, she is certainly busier than ever again. And without a doubt, her Holiday collection would drive her tons of sales from her followers, stationery enthusiasts, and random shoppers across the globe.
You might also want to check out her artsy Holiday collection.
9 Best Artists to Follow on Instagram
Marcello Barenghi (@marcellobarenghi)
Marcello Barenghi is an Italian artist, graphic designer and YouTuber famous in the realms of hyperrealism and 3D art.
At first glance with any of his impressive works, you will really think that the object isn't just an image. In fact, if no one will tell you that it's only a drawing you will go on with your day thinking that it is real.
He has mastered the art of hyperrealism that if you will put his artwork beside the real deal, you won't know which is which.
And guess what? He's also on YouTube and he also offers exclusive tutorials on Patreon for just $10 a month.
That's already a great deal considering that you can have access to all his tutorials, plus 1 new tutorial every month.
Kim Rose (@kim.rose.art)
Art pieces made of layers of real 24k gold and pieces made from the fusion of different chemical reactions and painting – these are just some of the styles and medium used by Kim in creating her multi-dimensional & polished artworks.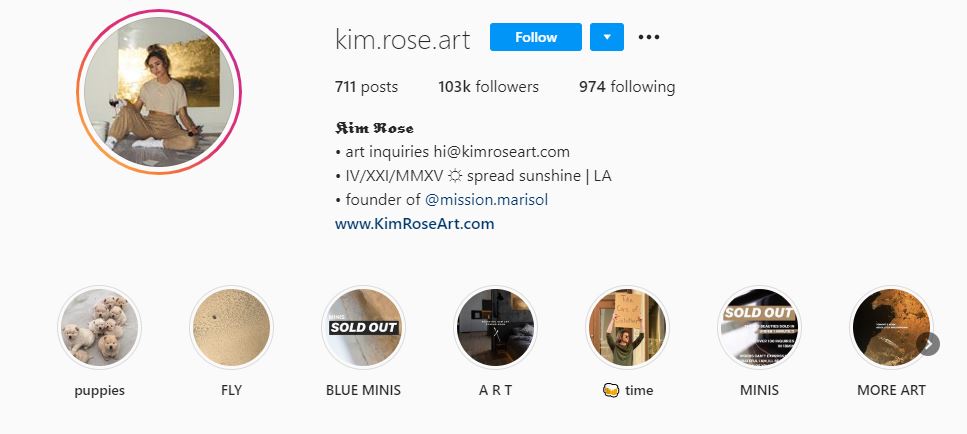 Kim's works are being collected all over the world, and she has made it her mission as an artist to give back to the community.
Hence, 10% of sales from all her art pieces go directly to help kids in Tijuana, Mexico through her foundation Mission Marisol.
EGYNEMO (@egynemo2014)
Nemo is an artist based in Egypt who specializes in custom graffiti art and murals.
During the celebration of the World Day of Social Justice in 2015, he was presented with a Certificate of Appreciation from the United Nations in recognition of his efforts in the field of social art in the Arab world through his murals.
Nemo was one of the 16 real Egyptian influencers in 2016. And he was also featured in various newspapers and magazines for his impressive and inspiring graffiti artworks and murals that speak about the plights of the underprivileged.
Jean Jullien (@jean_jullien)
French artist Jean Jullien is undoubtedly not new in the industry. He graduated with a degree in graphic design in Quimper, before moving to London to sharpen his artistic prowess.
He graduated from Central Saint Martins in 2008 and from the Royal College of Art in 2010.
His works extend from illustration to photography, video, costume design, books, installations, posters, and clothing.
He has worked with famous brands and huge clients such as Hermes, Vogue, The New York Times, The Guardian, National Geographic, Champion USA, and many more.
Chantal Horeis (@chantalhoreis)
If there's one striking feature that you can associate with Chantal Horeis – it is her consistency in emitting a warm vibe on her feed with the use of colors.
She has a penchant for whimsical, cute, and dreamy subjects, as well as of things that are related to nature, movies, and the trivial aspects of everyday life. For her illustrations, she uses both digital and traditional materials.
Benjamin Shine (@benjaminshinestudio)
Benjamin Shine has made a global name of his own with his signature style in creating art installations and portraits with the use of tulle.
His works have been exhibited by various arts institutions such as the Metropolitan Museum of Art, The Crafts Council UK, The London Design Museum, and The Museum of Arts and Design New York.
He has also worked with Beyonce, Maison Margiela, Givenchy, The Met, Bergdorf Goodman, Barclays Wealth, Google, and Vogue.
Tim Bengel (@timbengel)
Tim Bengel is a contemporary artist based in Germany who gained worldwide recognition with his works that are made of black sand, white sand, and gold leaf.
He experienced massive success on social media with his breathtaking sand art videos that culminate in a "reveal climax" that received up to 400 million views and counting.
With his simple, yet contrasting color choices and distinctive art techniques, Tim Bengel is transforming the art world one sand art at a time.
Nigel Chia (@nigelchiaofficial)
It is my goal in this article to share a varied list of popular artists that are making big waves in their respective fields.
And Nigel Chia is certainly not a stranger among doll collectors and enthusiasts, as well as fashion designers. He is a renowned doll artist and fashion designer based in Malaysia known for his beautifully crafted DeMuse Dolls and fashionable doll ensembles that he sews from scratch.
Felix Semper (@felixsemper)
If you love watching viral videos on social media and YouTube, then, chances are you've already come across Felix Semper's mind-bending stretchable paper sculptures.
Felix is a self-taught Cuban-American artist who rose to fame with his Notorious BIG sculpture which was inspired by an image of the late American rapper The Notorious B.I.G.
Some of his famous clients are global corporations and celebrities like Business Insider, Marriott International, A$AP Rocky, and Ryan Seacrest just to name a few.
His works are also favorites among private collectors and institutions worldwide.
5 of the Funniest Cartoonists on Instagram
Catana Comics (@catanacomics)
Catana Comics is being run by American cartoonist and illustrator Catana Chetwynd and her boyfriend, John.
It started on Thanksgiving Day of 2016 when John made an informal suggestion to Catana to make a comic about their relationship.
And within just an hour, their first comic was created and it was followed by a few more in the next few days.
She didn't intend to publish the comics, but John did and to their surprise, the comics took off – and the rest, as they say was history. Their Instagram account has over 370+ posts as of this writing.
So, if you need to lighten up your mood, feel free to check their feed and you might also want to shop some of their merchandise or preorder their second book which is coming very soon.
Poorly Drawn Lines (@poorlydrawnlines)
If you are into comics with a satirical and absurdist tone, then, Poorly Drawn Lines, a webcomic created by cartoonist Reza Farazmand is for you.
His works mostly feature animals with attitude and angst. And though his illustrations are somewhat poorly drawn, his comics are rich in humor.
Alec With Pen (@alecwithpen)
Individuals who are struggling or have fought a hard battle with their mental health can relate to the darkly hilarious comics of Alec MacDonald.
Alec is vocal about his battle with mental health, and his comics are part of his coping mechanisms.
For my entire life, my impulse was to keep my uglier feelings private," he said and was quoted in an article on VICE. "But having this platform where I can air out my gross, fetid inner life to people who feel the same—or at least think it's funny—lets me feel a new sort of ownership over my problems."
Adam Ellis (@adamtots)
Adam Ellis has made a name of his own by making funny and relatable comics. His collective fan base on Instagram, Facebook, and Twitter exceeds 3 million, making him one of the most popular cartoonists on the internet today.
If you've been following Buzzfeed for some time, for sure you already came across his writings and illustrations because he used to work there as a cartoonist and a writer.
He also published a book entitled, "Books of Adam: The Blunder Years" where he presents in a lighter tone the trials and tribulations that a person goes through in an attempt to be a functioning member of the society.
Jason Adam Katzenstein (@j.a.k._)
Jason Adam Katzenstein is a cartoonist and comedy writer for print, animation, and television.
His works have appeared in The New Yorker, MAD magazine, The New York Times, and on Cartoon Network.
Considering his connections, you will know that his writings and artworks lean on politics, current events, and the hustle and bustle of city life.
Let Me Hear Your Thoughts
I'll update this article once in a while, so don't hesitate to share more artists, illustrators on Instagram, and cartoonists that we can follow across all social media channels.
And if you are still new at it and you are curious about how you can reach your first 1000 followers on Instagram, this article can give you some helpful tips in expanding your reach in this platform.
Do you have some questions in your mind or is there a topic that you'd like me to cover in my future blog posts? Feel free to share them in the comments below.
If you finished reading this post, chances are you are also art-inclined. And most probably, you might also love the following articles: