Oftentimes, people grow believing that the grass is greener on the other side.
Hence, we can't deny why there's a constant diaspora of skilled workers, artists, and talented individuals from one place to the other.
We can't blame them. Most often than not, they also grew up believing that one should look further and farther in one's quest for greener pastures.
As a result of this homegrown belief, more and more people miss out on the golden opportunities that are right in front of their eyes – in their hometown to be exact.
If you can relate to this, then for once, you might want to give your local art market a try.
In the span of your career as an artist, have you ever considered promoting your art in your area? I suppose you'd like to give it a shot that's why you're here.
That's great because I am more than happy to share some helpful local marketing ideas that you can use anytime.
How to Sell Your Art Locally?
Reach Out to Your Local Art Council
Most cities have a local art council – a government or private non-profit organization that promotes the arts by organizing events, activities, and competitions, as well as funding artists and giving some grants.
So, you certainly want to learn more about your local art council and connect with them.
Display Your Artworks Outside of Galleries
Quiet disappointed because you don't have art galleries in your area?
Well, that's not a problem. Think outside of the corners of a gallery; think outside the box and you'll know that there other venues where you can display your artworks.
You can check out a posh coffee shop in your area, an art store, office lobbies, schools, libraries, theaters, banks, community churches, recreation centers, or even an ancestral house.
These are just some of the non-conventional venues that you can tap into. These places can also expose your artworks to fresh sets of eyes.
You may not be able to directly target your desired audience, but you are widening your reach.
And you can certainly benefit through referrals or word of mouth marketing.
Network with Local Businesses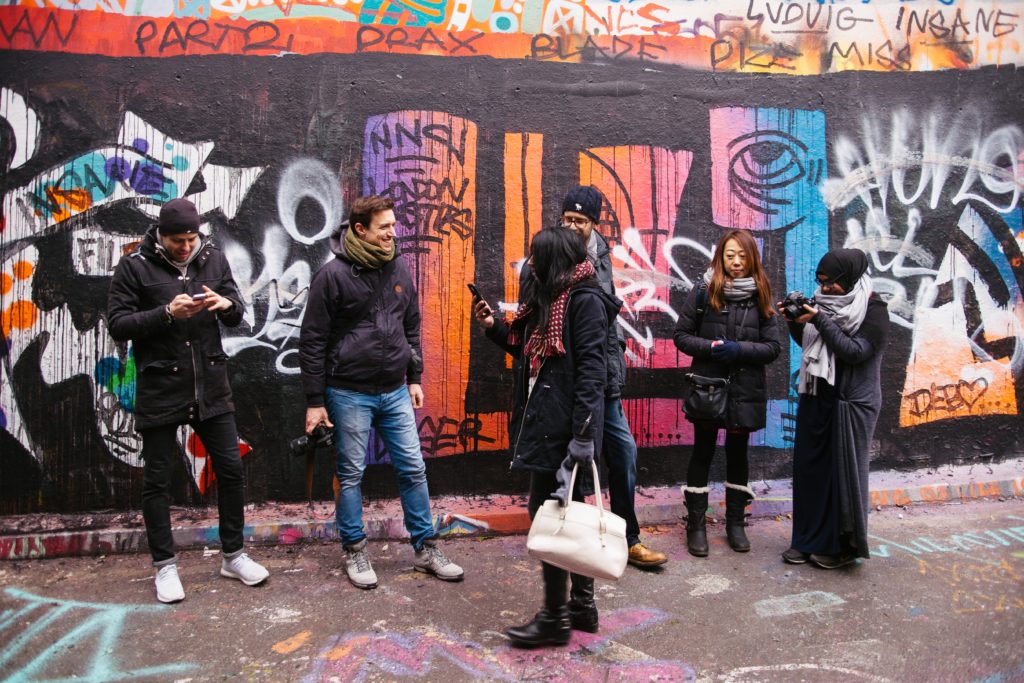 The business community is an ocean of valuable contacts and potential clients.
And it's surprising why a lot of artists don't consider a partnership with local businesses. We can say that some artists are just too shy to extend to these businesses or maybe they just don't find it necessary.
Well, let's respect their decision, but let us also not discount the fact that partnering with local businesses can provide several benefits to artists.
Remember that they also need some accents in their place; so you can ask them about their needs and offer some solutions as an artist.
You might also want to collaborate with architects and interior designers in your area because most probably, they also need some art installations or art pieces in their projects.
And of course, it's always a good idea to join your local networking group, like BNI, where you can exchange contacts and referrals with other business owners in your area.
So, don't forget to bring a business card all the time.
Check out this article on how you can make an artist business card that stands out.
Join Art Fairs & Festivals
If you are still starting and you want to keep your cost low, you can benefit a lot from joining art fairs and festivals.
These events are very much receptive to artists. A lot of people are also becoming more interested in buying art pieces in art fairs and festivals, and in getting to know the artists personally during the event.
However, if you are not fond of socializing and standing on your feet all day while talking to potential buyers, then this might not work for you.
Joining art fairs and festivals require tons of social energy and confidence that will sustain you throughout the event.
After all, fairs are not just about raking in sales, it's also about exposing and immersing yourself to the culture.
Volunteer in Your Community
One of the cheapest, yet most effective ways to build your reputation as an artist is by offering free services in the community.
It can also be a good source of unexpected sales and opportunities to promote your artwork.
Below are some of the best community outreach activities that you can get involved with:
Reach out to local schools: There are several routes that you can take when reaching out to schools. You can join at their fairs or seasonal events where you can display and sell some of your artworks. You can offer a free class to select students or be a resource speaker in their workshops. Oftentimes, students would want to learn more from you. So, if you want to, you can also offer paid art classes for groups or individual students. By reaching out to schools, you don't only widen your fan base and build your reputation, you also inspire the students and even the teachers with your artworks and your story.
Donate to charity: Giving back to charity should be part of your core as an artist whether you are a locally recognized artist or not. To bring more meaning into this noble cause, you can choose a charity that reflects your brand and your aesthetic as an artist. If you are known for tackling social issues with your artworks, then you can partner with a local charity that supports victims of domestic violence, and those that promote woman empowerment or gender equality. By joining a charitable institution, donating some artworks, or volunteering your service in the pursuit of their goals, you also accomplish a bigger purpose in your career as an artist. Trust me these humanitarian acts can fill a large hole within you.
Volunteer in community projects: There are several community projects that you can take part in and contribute as an artist, and one of them is through mural artworks. Contributing your time and talent for the completion of projects like this can have a huge positive impact on your career. It won't just generate good publicity, but also good karma.
Connect with the Press
Your local reporters, newspapers, radio stations, and community newsletters certainly want to feature rising talents in your area.
They are constantly on the look-out for substantial content, unique personalities, and talents that they can share with the community. So, you can ask them out if they would be interested to write an article about you or feature you in their station or column.
If you don't know where to start, you can first send your local newspapers or radio station an email asking them if who's the best person you can contact about editorial features.
Introduce yourself to them, inform them of your upcoming show and offer them free tickets.
You can also organize an open studio event and ask them if they can attend. Sometimes you just need to ask for you to receive the outcome that you are looking for.
And in this case, you might be intimidated to approach or contact the press, but as they say, there's no harm in trying. Why not give it your best shot?
Target Your Local Market through Facebook Ads
The wonderful thing about Facebook ads is its ability to reach your target audience with laser-sharp precision.
Considering that you want to promote your artworks or your show in your community, you can narrow your target audience to your town and nearby areas only.
This way you will only spend money on reaching specific demographics in certain locations, and there will be lesser competition compared if you are targeting several cities or the entire country.
Nevertheless, you should also know how to create an effective copy that can attract your audience.
Check out this article if you are still lost on how to write the best Facebook ads that can help you generate the results that you are aiming for.
How to Promote Art Gallery?
Without a doubt, establishing a good relationship with the local art galleries is one of the most effective ways to showcase your artworks to art lovers, art enthusiasts, and other artists like you.
And contrary to popular belief, pleasing the owner of the gallery is not the only way where you can get their endorsement and you can have your artworks inside.
More than this, the owners will also evaluate your goals and vision as an artist. The owners find it so important to only represent an artist who will be with them on a long term basis and not just someone who is looking for a one-time big shot to fame and money.
In short, they will also evaluate if you are worthy of their endorsement and of the space that will be allotted to your artworks inside the gallery.
Once you've proven yourself worthy to be featured in their gallery, then you can start promoting your upcoming show using different online and offline marketing strategies.
Below are some useful tips that you can apply in promoting your art gallery online:
Create a blog post on your website:
You can create an in-depth article about the details of your upcoming show and share this across your social media channels.
This way, your audience, and target market will learn more about you, about your show, the dates, the gallery, and so on. This can be your first step in letting your local community and nearby areas know about your show.
Send emails to your contacts:
By this time, you should have a mailing list filled with potential buyers, VIPs, and valuable connections.
If not, then you might want to read this article on how you can make use of giveaways to rapidly increase your email subscribers.
Send emails to all your contacts and express your utmost interest in having them in your upcoming show.
Promote on social media:
Make use of your social media networks in spreading the news about your show.
Post on Facebook groups, advertise on Pinterest or create a video on YouTube talking about the event, your preparation, and other interesting things that can catch the interest of your target audience.
Offline Art Marketing Plan
When it comes to marketing ideas, it's always great to have the best of both worlds – online and offline.
We've talked about some local marketing tactics that can help you promote your art show online, now let's check out some offline marketing ideas.
Always have some business cards handy. You'll never know who you will meet while you are buying your groceries, or eating your favorite dish at a local restaurant.
Weeks or even months ahead of your show, you might want to invest in a pile of merchandise that features your brand. While doing your charity works, you can give away pens, papers, or shirts with your logo, website, and business email address. A lot of business owners are also active philanthropists who are very much involved in humanitarian acts. So, there's a high chance that you can get your name in front of them away from the tough competition and the noise at a trade fair.
Try Guerilla marketing. Surprise your target market with your unconventional ways to promote your show and your talent. You are an artist, so this will be easier for you to pull up successfully. For example, you can create a temporary graffiti or chalk art on the street or the walls of a building. Of course, you need to ask relevant permissions to make your stint legal and avoid unwanted hassles and stress.
If you want to find out more about the different offline marketing tactics that can help promote your artwork in your community, then feel free to check out this article.
Final Thoughts
Be creative, yet serious with your marketing campaigns as it is with your artworks, and you will definitely reap your rewards sooner than expected.
There are a lot of local marketing ideas out there, and for sure you have some that you'd like to share.
Feel free to comment below some of your marketing strategies, and have a chance to give back to other artists like you.