Ask any business owner what's their goal as far as their website is concerned, and they'll probably tell you that it's to get into the #1 spot on the search engine results pages (SERPs).
Landing that much-coveted spot would mean that your site's CTR (click-through rate) is going to be at least 200% higher than the next on position #2. And besides, whenever you search something don't you also click first on the topmost result from the search engine?
We got it – everyone wants to be on top, but we all know that there are a lot of things that should align so you can get into that valuable position.
You can't just rely on ranking first on certain keywords, or in getting a lot of backlinks into your site.
There are tons of other factors that you need to look into consideration. And one of these factors is Domain Authority (DA).
What is Domain Authority?
Domain Authority (DA) is a metric developed by Moz that predicts how a website will rank on the search engine result pages (SERPs).
It's important to note that Google didn't develop DA, and Domain Authority is not used by Google in determining search rankings.
Domain Authority is calculated using several factors, such as the root domains and the total number of internal and external links into the site.
DA score ranges from one to 100. Websites with higher DA scores experience a better ranking and visibility on the search engine result pages.
Unless you are aiming to create a site that is as big as Google, Facebook, WordPress, and Wikipedia, it is better not to stress yourself by aiming to hit a 100 Domain Authority score.
All of these four web authorities have a 100 DA score, including YouTube, Twitter, and Adobe.
You can check a website's DA using MozBar (a free Chrome extension), or you can also use Link Explorer, as well as tons of other SEO tools that are available online.
Domain Authority vs. Page Authority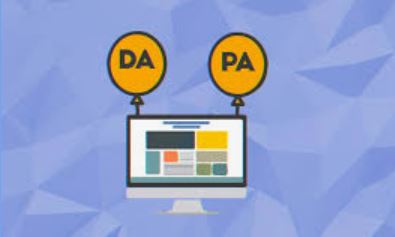 While Domain Authority predicts how a website will rank on the search engine result pages (SERPs), Page Authority, on the other hand, is a metric developed by Moz to determine how a certain page will rank on the SERPs.
And just like DA, PA scores range from one to 100, with higher scores equivalent to a greater ranking and visibility on the search engine result pages.
Page Authority (PA) is based on data from Moz's web index, as well as link counts and many other factors.
However, it's important to mention that PA doesn't look into the keywords and content optimization that are being used on the page.
And just like Domain Authority, PA is best to be used as a relative metric to compare how your page fares against other pages. And not use it as an absolute score to your page's rankability on the SERPs.
What is a Good Domain Authority Score?
Both Domain Authority and Page Authority scores are better used as comparative tools to help you determine how your site and your pages perform on the SERPs against other sites and pages.
As such, there isn't necessarily a "good" Domain Authority score and a "good" Page Authority score.
Hence, instead of focusing on a certain score to target, it's more important to compare your site's DA score and compare it with other websites that you are directly competing with on the SERPs. And just focus on aiming a higher score than your direct competitors.
If your site is still brand new, you have to start with a DA score of 1 and from there you can build your score up by having high quality external and internal links.
And like what I've said, there are several factors to consider in building your Domain Authority. Let's talk about these things below.
How to Build Domain Authority for Your Art Website?
It's been said over and over again that content is king, so unsurprisingly, your content plays an important role in building your site's domain authority.
But we also know that a king can't rule a kingdom by himself. Hence, your content is certainly not enough.
Moreover, one of the toughest tests in building an empire is time. No empire is built in a day, and the same is true in building a site's domain authority.
You can't go from zero to hero overnight, in a week, or a few months. It takes years to grow your score and land on the prized top spot on the search engine result pages (SERPs).
And like what was said earlier, instead of stressing yourself in hitting the highest DA score possible, focus on getting a higher DA score than your direct competitors.
Again, Domain Authority and Page Authority are meant to be used as comparative metrics to help you compare your site and your page's performance against other sites and pages, respectively.
If you've figured your competitors' scores, and you know how high you should go, below are some steps that you can follow to help you build your art website's Domain Authority.
1. Invest in High-Quality Links
There are over 200 factors that can affect how your site will rank on the SERPs, but having a strong link profile is the most important aspect in building your site's Domain Authority.
Hence, you should certainly focus on this factor if you are eyeing to increase your rank on the search engines and to increase traffic to your site.
Getting backlinks from high Domain Authority websites is the gold-standard of how you can build on your link profile.
When these trusted websites are linking to your site, it only means that they trust you, and they believe that you have so much to offer.
Google will notice that and before you knew it, you are slowly rising towards the first page of the search engine results page.
In addition to getting high-quality backlinks, you should also pay attention to developing high-quality internal backlinks.
Internal linking or adding inbound links into your content helps you weave a strong network within your website. This, in turn, helps users find relevant posts that can enhance their user experience, and it also helps the search engines that crawl and index your website.
Speaking about improving your website's user experience, you might want to check out about Hotjar. Did you notice what I just did? That's an internal link.
2. Remove Harmful or Spammy Links
Getting and maintaining a high Domain Authority isn't just about developing high-quality backlinks, it's also about keeping your link profile healthy.
And when I say healthy, that means, your site is free of or is not bombarded with toxic backlinks. The best place to start if you want to clean your link profile is to regularly conduct a backlink audit.
This will help you determine the status of your backlink profile at the moment. And of course, it will flag harmful or spammy links that you should remove.
You can do a backlink audit with the aid of tools available online such as SEMrush Backlink Analytics.
Create a list of the harmful backlinks that you need to work on, and remove them manually. And finally, you can do a link disavow through Google if you believe that you have links that are pulling your site down but unfortunately, you can't remove them manually.
Once you've cleaned up your link profile with these steps, I am sure the search engine will be happy and your DA will increase before you even knew it.
3. Create Amazing Content
The top two steps that I mentioned above are crucial aspects of building your domain authority and page authority. However, here's the catch – if you don't have great content to start with, just forget about these two steps because they won't work that much, as well.
Hence, while paying attention to your link profile, you should not neglect that your content is the lifeblood of your site.
You attract your audience by what you have to offer. And of course, you attract the high authority websites to link to your content if they find it helpful and relevant to their readers and if they simply find it too good to neglect.
In other words, content marketing is an essential part of your backlink strategy. And for it to work, you need to make sure that your content is attracting the attention of as many readers as possible.
Below are two steps that you want to keep in mind to strengthen your content marketing:
If you want to reach more audience and potential clients, you need to have a solid distribution plan. You can't rely on SEO alone if your DA score is still low. So, you've got to work harder. You can gain traction by using PPC campaigns like Facebook Ads to promote your more important posts.
Running ads can be expensive, so you don't have to promote every post that you create. Besides doing so can also be counterproductive as people might see it as a hard-selling tactic.
Chances are they can perceive you as someone who just wants to make money from them. You certainly don't want to be perceived that way.
Create original content or add a twist to a refurbished content. The Internet is filled with tons of information, so it can be hard to write about a topic that hasn't been written or create a content that hasn't been done before. Again, it's hard, but it's possible. You just have to spend time to do your research, observe the trends online, the current events, and so on. I'm sure you can pull off a content that is unique and original.
At the end of the day, your success online relies on real people for traffic, shares on social media, and backlinks. So, yes, SEO isn't all about algorithms and technicalities – it's also about your capacity to tap and benefit from the power of your web visitors and potential clients.
4. Work on Your Overall SEO
SEO and content marketing are like bread and butter, bacon and eggs, and pork and beans – they complement each other, and that's why they should always be together.
Again, content marketing is important in building your site's link profile. SEO, on the other hand, is important too for your website.
And as Moz explains, you need to improve your overall SEO if you want to grow your DA score.
And SEO isn't just about adding relevant keywords, meta description, and writing catchy headlines.
Search Engine Optimization (SEO) also covers your site's navigability and your content's readability.
It also involves your alt tags, header tags, word count, URL structure, breadcrumbs, and site structure.
Before you focus on raising your site's Domain Authority, you first need to work on your overall SEO and content marketing strategies.
5. Diagnose Crawlability Issues
All the hard work that you've shed in strengthening your SEO will be put to waste if Googlebot is not able to crawl and index your site.
And chances are Moz will also have the same issues with your site, so it can also affect your site's ability to rank on the search engine results page (SERP).
You can use a site audit tool to regularly check your website for crawlability issues.
SEMrush and Moz are two great options that you can look into.
Conclusion
There you have it. I know it's hard, but who says it will be easy?
Content marketing is already tough. What more if you have to combine it with other aspects like SEO, a healthy link profile, and the absence of crawlability issues?
Without a doubt, the battle towards the top spot of the search engine results page (SERPs) is not for the faint of heart, and certainly not for those who want immediate results.
I almost forgot to emphasize that gaining a high DA score and landing the first page of the SERPs takes time.
So, if you have just created your art business website, don't expect to see your site their anytime soon. Well, not unless people will key in your name on the search box during their search.
If that's the case, then, you are certainly in luck. And you definitely deserve a tap on your back. It only means that you've already gained quite enough exposure to cause people to look you up on the search engines.
What can you say about this article? Do you have additional tips that you'd love to share? Feel free to comment below.
If you find this content helpful, you might also want to check out my other art-related articles: